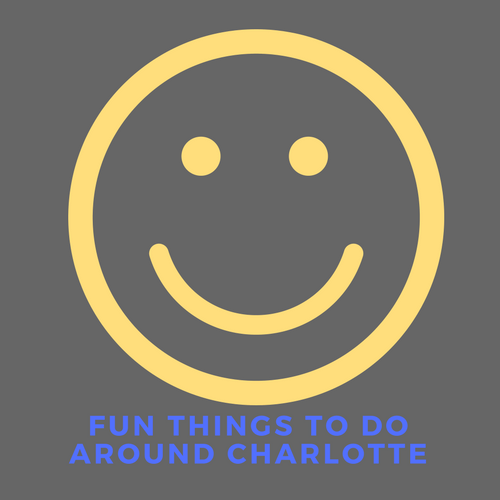 ---
101 Fun Things to Do in Charlotte
Experience Charlotte like a local with our list of 101 (or maybe a few more) fun things to do in and around the Queen City. View the whole list or go to specific topics by clicking the links below.
1. Peek into Charlotte's past at the Levine Museum of the New South [2], The Charlotte Museum of History [3] (home to the county's oldest-surviving structure, Hezekiah Alexander Homesite [4]) or the Wells Fargo History Museum [5]. Admission is free at the Wells Fargo History Museum and 50 percent off every Sunday at the Levine Museum of the New South.
2. Retrace Charlotte native and Christian evangelist Billy Graham's dynamic journey from a North Carolina dairy farm to stadiums across the globe at The Billy Graham Library [6]. Admission is free.
3. Learn about the nation's 11th U.S. president on a tour of his birthplace, the President James K. Polk State Historic Site [7] in Pineville.
4. Relive the region's heritage on guided tours of its plantations: Learn about the area's cotton kingdoms at Historic Latta Plantation [8], see beautiful Federal period architecture at Historic Rosedale Plantation [9] or retrace Revolutionary War roots at Historic Brattonsville [10].
5. Experience Gilded Age glam at turn-of-the-century stays such as The Duke Mansion [11] (of James Buchanan Duke fame), The Dunhill Hotel [12], The Morehead Inn [13] or The VanLandingham Estate [14].
6. Follow Uptown's Charlotte Liberty Walk [15], a series of bronze plaques and monuments that detail the city's vital importance during the American Revolution, or the Trail of History [16] on the Little Sugar Creek Greenway, which highlights the key people who've contributed to the area's growth. Don't miss the stops for Captain James Jack. Legend has it, he carried the Mecklenburg Declaration of Independence to the 1775 Continental Congress. The city still celebrates every year on May 20, aka Meck Dec Day [17].
7. Tour Center City and neighboring historic districts your way: in a horse-drawn carriage with Charlotte Center City Carriage Tours [18], on a Segway or bike with Charlotte NC Tours [19], by lantern with Carolina History & Haunts [20], during Funny Bus Comedy City Tour's [21] BYOB stand-up routine or during a two-hour journey with C-Charlotte Tours [22].
8. Pan for gold at Reed Gold Mine [23], the location of the nation's first gold discovery in 1799. Admission and tours are free; panning for gold is $3.
9. Order popular plates from the kitchens of James Beard-nominated chefs, including Joe Kindred of Kindred Restaurant [25] in Davidson, Paul Verica of Heritage Food & Drink [26] in Waxhaw, or Bruce Moffett of Stagioni [27], Good Food on Montford [28] and Barrington's [26] in Charlotte.
10. Taste the town through a flavorful food tour with FEAST Food Tours [29], Tour De Food [30] or Charlotte NC Tours [19].
11. Enjoy community vibes at 7th Street Public Market [31] or Atherton Market and Mill [32], where gourmet sandwiches, artisan pizza, craft beer, raw juice, fine wine, sweet confections and locally made giftable items abound.
12. Feast on Southern classics at longstanding fried chicken joint Price's Chicken Coop [33], flavor-packed downhome sides and desserts at Mert's Heart and Soul [34], or savory meat-and-threes at The King's Kitchen [35].
13. Try North Carolina's varied barbecue styles at institutions like Bar-B-Q King [36], Bill Spoon's Barbecue [37], Queen City Q [38], Midwood Smokehouse [39], Sauceman's [40], City Smoke [41] or Mac's Speed Shop [42].
14. Celebrate a special occasion at a beloved Charlotte treasure like Beef 'N Bottle [43], McNinch House Restaurant [44] or The Fig Tree Restaurant [45].
15. Get a taste of Charlotte as seen on TV [46]. Slurp a milkshake from atop a stool at Pike's Old Fashioned Soda Shop [47], like characters did in "Shallow Hal," taste innovative cuisine from the kitchen of "Top Chef" contestant Jamie Lynch at 5Church [48], or order what Food Network's "Diners, Drive-Ins and Dives" host Guy Fieri did at spots like FūD at Salud [49], JJ's Red Hots [50], Cabo Fish Taco [51], The Improper Pig [52], Pinky's Westside Grill [53] and more.
16. Go meatless at the city's creative vegetarian eateries. Living Kitchen [54] offers raw foods in locations throughout the city, while Fern [55] and Bean Vegan Cuisine [56] are local loves.
17. Explore the world's flavors at the city's international hot spots. Taste African dishes at Enat Ethiopian Restaurant [57], Latin American nosh at Machu Picchu Peruvian Cuisine & Bar [58] or Eastern specialties at Grand Asia Market [59].
18. Order fare with flare from one of the city's host of beloved food trucks [60] like Papi Queso [61], The TIN Kitchen [62], New Wrap Order [63], Street Spice [64], Yummy Banh Mi [65] or The Dumpling Lady [66].
19. Sharpen your culinary skills while learning from a local chef at Chef Alyssa's Kitchen [67] or Harper's Restaurant Group's [68] Get Cookin' classes at Upstream [69], Harper's Restaurant [70] or Mimosa Grill [71].
20. Dine aboard the Catawba Queen Mississippi riverboat or Lady of the Lake luxury yacht on Lake Norman on a dinner cruise with Queen's Landing Sightseeing & Dinner Cruises [72].
21. Indulge in some of the city's best sweet treats at Bar Cocoa [73] at The Ritz-Carlton, Charlotte [74] or Amélie's French Bakery [75] (the salted caramel brownie is a must).
22. Savor the creamy goodness of freshly churned ice cream from local favorites like Elizabeth Creamery [76], Mr. K's Soft Ice Cream [77] or La Michoacana [78].
23. Get a jolt of caffeine at a local coffee haunt. Not Just Coffee [79], Trade and Lore [80], Smelly Cat Coffeehouse & Roastery [81] or HEX Coffee [82] offer energy-infused beverages.
24. Check out what's on tap at any of the region's 40-plus breweries. Try German varieties at The Olde Mecklenburg Brewery [83], organic brews at Lenny Boy Brewing Co [84]. or award-winning pours at NoDa Brewing Company [85]. Be sure to check brewery event schedules for weekly yoga and fitness classes.

25. Hop from brewery to brewery on a tour with Charlotte Brews Cruise [86], Trolley Pub [87] or Charlotte NC Tours [88].
26. Get in the spirit at a local distillery. Check out Doc Porter's Distillery [89] or Great Wagon Road Distilling Company [90] in LoSo, Dragon Moonshine Company [91] in NoDa, Muddy River Distillery [92] in Belmont or Southern Grace Distilleries [93] in Concord.
27. Sip Prohibition-style at speakeasies such as The Cellar at Duckworth's [94], Dot Dot Dot [95] or The Dock [96].
28. Order a drink from Bob Peters, Charlotte's most-admired mixologist at The Punch Room [97] at The Ritz-Carlton, Charlotte [98] or attend one of his monthly mixology classes at Earl's Grocery [99].
29. Spend a day exploring the Charlotte-area wine country at Vineyards of Swan Creek [100], which boast six vineyards only 5 miles apart, or Childress Vineyards [101], Shelton Vineyards [102] or Treehouse Vineyards [103], where you can sip wine in a rented treehouse.
30. Relax with a refreshing and different kind of adult beverage from one of the city's cideries. Taste real North Carolina apples brewed in Red Clay Ciderworks' [104] varieties, try "heirloom-apple" ciders at GoodRoad CiderWorks [105] or sip fresh-pressed pours at Windy Hill Orchard & Cider Mill [106].
[107]Nightlife & Entertainment
31. Explore Center City's three-floor entertainment destination, the EpiCentre [108], which houses uniquely themed bars, nightclubs and restaurants. Ride the mechanical bull at Dale Earnhardt Jr.'s Whisky River [109], party at the open-air bar Rooftop 210 [110] and sing along to your favorite tunes at Howl at the Moon [111].
32. Hop from breweries, cideries, distilleries and an entertainment house all on the same block in LoSo. Experience Sugar Creek Brewing Company [112], The Broken Spoke [113] and Queen Park Social [114], among other nightlife favorites.
33. Create your own crawl on Montford Drive. Start with bowling at 10 Park Lanes [115], then enjoy drinks and small plates at Brazwell's Premium Pub [116], and end the night with karaoke at Jeff's Bucket Shop [117].
34. Hang at one of Charlotte's hidden gems of nightlife. With a cobblestone walkway as its signature feature, Brevard Court is home to Courtyard Hooligans [118], The Belfast Mill [119], The Cotton Room [120], Valhalla Pub & Eatery [121], French Quarter Restaurant[122] and more.
35. Grab your friends and clubbing attire for a night out in Uptown at popular bars and dance clubs near Trade and Fifth streets like Prohibition [123], Dandelion Market [124], Tilt on Trade [125], Connolly's on 5th [126], RíRá Irish Pub [127] and Roxybury Nightclub [128].
36. Discover the venues that put the "music" in the AvidXchange Music Factory [129], including The Fillmore Charlotte [130], The Underground [131] and Charlotte Metro Credit Union Amphitheatre [132] as well as other nightlife hot spots like The Comedy Zone Charlotte [133], VBGB Beer Hall & Garden [134], Small Bar [135], Club One [136] and more.
37. Trade your briefcase for a jam session at one of Charlotte's outdoor music events. May through September, check out Alive After Five [137] at EpiCentre [108] on Thursday nights or the U.S. National Whitewater Center's [138] River Jam [139] concert series on Thursdays and Saturdays. In the spring and fall, spend Thursday nights at Sunset at Metropolitan [140]. Or catch an open-air concert at PNC Music Pavilion [141].
38. Experience an intimate concert at the historic Visulite Theatre [142] in Charlotte's Elizabeth neighborhood. For an art gallery ambiance, try The Evening Muse [143], which features original artists in a wide variety of genres, or try Neighborhood Theatre [144] for small-scale shows that pack a big punch.
39. Relish stunning skyline views at Charlotte's best rooftop restaurants and bars. Fahrenheit [145] and City Lights Rooftop [146] in Uptown, The Peculiar Rabbit [147] and Whiskey Warehouse [148] in Plaza Midwood, and The Gin Mill [149] in South End are all Instagram-worthy options.
40. Attend a nationally touring show at Bojangles' Coliseum [150] or Ovens Auditorium [151], Charlotte landmarks since 1955.
41. Take on the class II-IV rapids by raft or kayak at the U.S. National Whitewater Center [153], home of the largest man-made whitewater river in the world.
42. Ride the world's tallest and fastest giga coaster, the 325-foot-tall Fury 325, at Carowinds [154] amusement park.
43. Stroll through the tranquil grounds at Charlotte-area gardens like Daniel Stowe Botanical Garden [155], McGill Rose Garden [156], Wing Haven Gardens & Bird Sanctuary [157] or UNC Charlotte Botanical Gardens [158].
44. Make a splash. Paddleboard, canoe or kayak on the Catawba River [159] (call Catawba River Expeditions [160]), Lake Norman [161] and Lake Wylie [162]. Or take a dip in The Quarry at Carrigan Farms [163].
45. Take in the city's protected wilderness at Reedy Creek Nature Center and Preserve [164], McDowell Nature Center and Preserve [165], Latta Plantation Nature Center and Preserve [166] or Anne Springs Close Greenway [167].
46. Rent a four-person paddleboat from Dave's Paddle Boats [168] at The Shoppes at University Place [169].
47. Explore Charlotte's urban parks—The Green [170], Romare Bearden Park [171] or First Ward Park [172]. During the warmer months, spend the afternoon playing in the parks' fountains.
48. Grab a cozy blanket, prepare a yummy lunch and pack up the family for a picnic at Freedom Park [173] or Park Road Park [174].
49. Rent a two-wheeler from Charlotte B-Cycle [175], one of the largest urban bike sharing systems in the Southeast, and explore Uptown and surrounding neighborhoods.
50. Roam the Charlotte Rail Trail [176]. Along the way, cafés, bars, galleries, artists at work, impromptu concerts and more bring the streetscape to life.
51. Glimpse the Charlotte skyline from the top of Crowders Mountain State Park [177]. The 25-mile view is your reward for traversing the park's extensive trails.
52. Catch an action-packed major league game. The NFL's Carolina Panthers [179] play in Bank of America Stadium [180]—the season kicks off in August with Carolina Panthers' Fan Fest [181]. The NBA's Charlotte Hornets [182], owned by basketball legend Michael Jordan, call the Spectrum Center [183] their "Hive." And the MLL Charlotte Hounds [184] offer a family-friendly sporting experience at American Legion Memorial Stadium [185].
53. Support the city's minor league teams. The AHL Charlotte Checkers [186] take to the ice at Bojangles' Coliseum [150], the Charlotte Knights [187] defend the diamond at BB&T Ballpark [188] in Uptown and the USL Charlotte Independence [189] hit the field at The Sportsplex at Matthews [190].
54. Relive your coed days at a UNC Charlotte 49ers [191] game at Jerry Richardson Stadium [192] or root for your favorite college teams at the Belk Bowl [193] or ACC Championship [194] at Bank of America Stadium [180].
55. Tee off at one of Charlotte's recognized golf courses: the wetland-shrouded 15th hole of Rocky River Golf Club [195], the championship course at The Golf Club at Ballantyne [196] or the private Quail Hollow Club [197] (if you have a connection), which has hosted the Wells Fargo Championship [198] and the PGA Championship [199].
56. Improve your golf game at Dana Rader Golf School [200], a globally ranked Golf Channel Academy, or keep the game casual and entertaining at Topgolf [201].
57. Explore the region's auto racing roots at Charlotte Motor Speedway [202], home of NASCAR's only 600-mile race. In May, the speedway hosts the Monster Energy All-Star Race [203] and Coca-Cola 600 [203], and in October, the Bank of America 500 [203]. In Uptown, the NASCAR Hall of Fame [204] clinches the fan experience with racing simulators, pit crew experiences and tributes to NASCAR's legends.
58. Feel the adrenaline rush during high-speed driving experiences with Richard Petty Driving Experience [205] or the NASCAR Racing Experience [206]. On a smaller (though no less thrilling) scale, race go-karts at The SpeedPark at Concord Mills [207], Victory Lane Karting [208], K1 Speed [209] or GoPro Motorplex [210].
59. Don your seersucker and sundresses for the prestigious Queen's Cup Steeplechase [211], the Charlotte area's only horse-racing event, held annually in April.
60. Join in the excitement of the 100-plus-year-old CIAA Men's and Women's Basketball Tournament [212] held at Bojangles' Coliseum and Spectrum Center every February.
61. Find some of the most sought-after, luxurious brands around at SouthPark Mall [214]. Anchored by Nordstrom and Neiman Marcus, the mall carries cult favorites like Lululemon, Burberry, Tory Burch and American Girl.
62. Shop till you drop at budget-friendly Concord Mills [215] and Charlotte Premium Outlets [216], featuring hundreds of outlet stores with deep discounts.
63. Explore the local shops and designer boutiques sprinkled along vibrant East Boulevard in Dilworth. Offerings include Petal [217], Handpicked [218], Revolution Clothiers & Co [219]., Vestique [220], McKenzie Claire [221], Abode [222], Paper Skyscraper [223] and more.
64. Spruce up your digs after a trip to North Carolina's only IKEA [224], home of modern décor with Swedish ingenuity.
65. Channel your inner designer in South End, which is becoming the Queen City's prime design spectrum. Whatever your pleasure—used or new, contemporary or traditional—find it at stores like LaDonna Antiques & Interiors [225], The Furniture Connector [226]and High Cotton Home Company [227].
66. Discover vintage wonders and reclaimed relics at area antique and consignment shops. Find consignment goods at Dilworth's Sweet Repeats [228] and J.T. Posh [229] and antiques at South End's Sleepy Poet Antique Mall [230] and Plaza Midwood's Classic Attic[231].
67. Treat yourself to a day of pampering at the Spa & Wellness Center [232] at The Ritz-Carlton, Charlotte [74], The Spa at Ballantyne [233] or Spa Botanica [234] inside Embassy Suites Charlotte-Concord Golf Resort & Spa [235].
68. Get some much needed "R & R" at popular day spas in Charlotte like Urbana Wellness Spa [236] or Re Salon and Med Spa [237] or get a fast facial at Mud. Facial Bar [238].
69. Snap a picture in front of the phoenix-like Firebird [240], designed by French-American artist Niki de Saint Phalle, on the plaza at the Bechtler Museum of Modern Art [241].
70. Download the Arts & Science Council's Public Art Walking Tour [242] to explore the unique public art in the Queen City, including several frescoes painted by North Carolina native Ben Long.
71. Admire the awe-inspiring exhibits that fill the Bechtler Museum of Modern Art [243], Mint Museum Uptown [244] and Harvey B. Gantt Center for African-American Arts + Culture [245] at your leisure with a two-day Levine Center for the Arts [246] access ticket for $20.
72. Catch an award-winning Broadway show during the Blumenthal Performing Art's PNC Broadway Lights Series [247] each year or cheer "Bravo!" at a performance by Opera Carolina [248], the largest professional opera company in the Carolinas.
73. Enjoy the symphonic sounds of the Charlotte Symphony [249], led by nationally acclaimed conductor Christopher Warren-Green and assistant conductor Christopher James Lees. In the summer, enjoy a picnic-style show during Charlotte Symphony Summer Pops [250] at Symphony Park at SouthPark Mall [251].
74. Discover the passion of performance when the Charlotte Ballet [252] takes the stage at Knight Theater [253], Belk Theater [254] or the Patricia McBride & Jean-Pierre Bonnefoux Center for Dance [255].
75. Stroll through Charlotte's art districts on a gallery crawl. South End [256] and the historic NoDa Arts District [257] each host a crawl the first Friday of each month. The McColl Center for Art + Innovation [258] also hosts Open Studio Saturday [259], so you can meet the artists in residence.
76. Take a photography class at The Light Factory [260] and The Photo Classroom [261] , which offer everything from beginner to intermediate classes.
77. Collect your artistic earnings at the original branch of the U.S. Mint at the Mint Museum Randolph [262].
78. Enjoy a themed dinner and Broadway-style Christian musical, featuring live animals and inspiring music, at NarroWay Theater [263].
79. Groove to the Ziad Jazz Quartet's mid-century music during Jazz at the Bechtler [264], which takes place at the Bechtler Museum of Modern Art [243] on the first Friday of every month.
80. Quote a scene from one of the many classic productions performed at Theatre Charlotte [265], the state's oldest active community theatre.
81. Find innovative ways to interact with science: Cross a daring rope bridge at Discovery Place Science [267] (home to the largerest IMAX Dome Theatre [268] in the Carolinas), try hands-on experiments at Discovery Place Kids-Huntersville [269] and see stars at Discovery Place Nature [270]'s planetarium.
82. Take the little ones to play with the Peanuts gang at Planet Snoopy, a section of Carowinds [154] that's filled with kid-friendly rides, attractions and animated characters. While at the park, stop by the Carolina Harbor [271] water park, home to the 400,000-gallon Tidal Wave Bay.
83. Beat the heat (or cold) at an indoor water park. In Uptown, Ray's Splash Planet [272] invites guests to splash in fun-filled attractions, and in Concord, Great Wolf Lodge [273] features a huge water fort tree house, a 1,000-gallon tipping bucket and more.
84. Let your imagination soar at the Carolinas Aviation Museum [274], home of Flight 1549, the "Miracle on the Hudson" plane featured in the movie "Sully." Or watch planes take off and land at the Charlotte Douglas International Airport Overlook [275].
85. Journey to fairytale lands during a Children's Theatre of Charlotte [276] production or story time at ImaginOn: The Joe & Joan Martin Center [277].
86. Find exotic animals at Lazy 5 Ranch [278] in Mooresville, Tiger World [279] in Rockwell, Zootastic Park of Lake Norman [280] in Troutman, Carolina Raptor Center [281] in Huntersville or Bird Brain Ostrich Ranch [282] in Sherrills Ford. You'll also find more than 5,000 sea creatures at SEA LIFE Charlotte-Concord Aquarium [283] in Concord.
87. Start the year singing "Auld Lang Syne" during CLT New Year's Eve [284] presented by Ally. The evening culminates with fireworks at Romare Bearden Park [285].
88. Keep the taps flowing at Charlotte beer festivals held throughout the year, including the Queen City Brewers Festival [286], Moo and Brew Craft Beer and Burger Festival [287], and North Carolina Brewers and Music Festival [288], among others.
89. Experience the revelry of the British Isles during Center City's St. Patrick's Day Parade & Charlotte Goes Green Festival [289] in March and Huntersville's Rural Hill Scottish Festival and Loch Norman Highland Games [290] in April.
90. Be a spectator or a participant in the U.S. National Whitewater Center's [138] annual three-day outdoor lifestyle and live music festival Tuck Fest [291].
91. Relish good music, good art and good times at popular community arts festivals like Kings Drive Art Walk [292], held along the Little Sugar Creek Greenway each May, and Festival in the Park [293], held at Freedom Park each September.
92. Celebrate NASCAR's May races with stars, cars and guitars at Circle K Speed Street Presented by Coca-Cola [294]. Then throughout the summer, race to Charlotte Motor Speedway [295] for the weekly Bojangles' Summer Shootout Series [296], complete with legends car races, bandolero races, school bus races and more.
93. Sample Queen City fare at the annual Taste of Charlotte [297] festival in June or Queens Feast: Charlotte Restaurant Week [298] in January and July.
94. For knee-slapping fun with a Queen City spin, get a front row seat to see Charlotte Squawks [299] in full comedic force each summer. Picture "Saturday Night Live" meets Broadway.
95. Celebrate Independence Day in Charlotte with a July 4 festival at the U.S. National Whitewater Center [300], fireworks at BB&T Ballpark [188], Charlotte Symphony [249] performances and more.
96. Show your pride for the city's LGBTQ community during Charlotte Black Gay Pride's [301] annual summer event or at the Charlotte Pride Festival & Parade [302], each of which draws a diverse lineup of drag, dance, comedy and musical acts to Uptown.
97. Explore the heritage, traditions and cuisine of more than 50 different nations each fall at the UNC Charlotte International Festival [303] or celebrate the various international cultures in Charlotte at festivals throughout the year like the Greater Charlotte Asian Festival and Dragon Boat Festival [304], Festival of India [305], Yiasou Greek Festival [306], Hola Festival [307], Latin American Festival [308] or Festa Italiana [309].
98. Chow down on a giant turkey leg as you explore medieval customs during the Carolina Renaissance Festival [310] each fall.
99. Add the Novant Health Thanksgiving Day Parade [311] to your Turkey Day traditions. Local dancers, choirs and marching bands have marched down the streets of Uptown since 1947.
100. Join thousands in perusing lifestyle and decor events hosted by Southern Shows: Southern Spring Home & Garden Show [312] in March, Southern Women's Show [313] in August, Southern Ideal Home Show [314] in September and Southern Christmas Show [315] in November.
101. Have a royal holiday in the Queen City at treasured events like the Fourth Ward Holiday Home Tour [316], Holidays at the Garden [317], Speedway Christmas [202], Christmas at The Library [318] or Christmas Town USA [319].
---